Oatman History
Prospectors explored the Black Mountains area of Arizona as early as the 1860s. One of the early claims located during those years was named the Oatman, after Olive Oatman, the famous woman that was captured by Indians in the Arizona Territory following what was called the Oatman massacre. Olive Oatman spent five years as a captive of the Mohave tribe before being returned to American society. She was famous for the facial tattoos she received while in captivity.
Oatman Hotel
Mining in the area occurred sporadically over the latter half of the 1800s, and it seems that a miner's camp was established and named after the Oatman claim. In what years this settlement was active, or what year the community became permanent is difficult to ascertain. What is known is that a post office was established in 1906 and that the town was "official" from that point on. Oddly, the Oatman Hotel, which still stands today, was built in 1902, but almost nothing is written about the town from that period.
Mines of Oatman, Arizona 1921
Oatman got a boost with a major gold discovery in 1908, but it wasn't until 1915 when two rich gold mines went into production that one of the West's last gold rushes occurred. The year 1915 saw thousands of gold seekers flood into Oatman and newspapers around the country hailed the rush to the "new camp of Oatman" - it seems that the town was not very noteworthy prior to that year. An October, 1915 newspaper article described the rush:
Wm. F. Gray and V. J. Bergeron, who left here some two weeks ago to explore the new gold camp in northwestern Arizona, have returned and report that it exceeds their expectations. The town of Oatman has a population of 2,000 people, and from 50 to 100 per day are being added. A Stock Exchange is now being built, and will be in active operation in 30 days.
Historical building at Oatman, Arizona
By summer of 1916 over two hundred mines were operating in the Oatman district. Citing "in the course of the camp's rapid growth the soaring by leaps and bounds of the cost of living"... the Western Federation of Miners demanded an increase in miner's wages. With enormous riches just waiting to be dug out of the mines, the mine owners quickly capitulated to the miners demands in what was one of the West's shortest and least eventful strikes.
At the conclusion of World War I many ex-soldiers flooded into the Oatman area both in search of employment at the mines and reportedly to take advantage of Arizona's dry climate to rehabilitate from "being gassed" in the war. The full article contains interesting details related to this period and is included below.
Mine ruins at Oatman, Arizona
By 1931, the area's mines had produced over 1.8 million ounces of gold. By the mid 1930's, the boom was over and in 1942 the last remaining mines were closed as nonessential to the war effort.
Oatman was more fortunate than other former mining towns as it was located on U.S. Route 66, known as "The Main Street of America", a popular and important road for travelers. Clark Gable and Carole Lombard stopped at the town during their 1939 honeymoon. Gable fell in love with the town and returned frequently to play cards with the locals. The Oatman Hotel still features the "Gable Lombard" Honeymoon Suite.
When Interstate 40 bypassed Oatman in the 1950s the town lost the bulk of the tourism industry that kept it alive during the post-mining era. Within a decade Oatman was mostly abandoned. As travelers became more interested in historic western towns, tourism came back to Oatman and today the town remains a popular destination with over 100 full-time residents.
Wild burro - Oatman
One of Oatman's attractions are the ubiquitous wild Burros that call the town home. They first came to Oatman with early day prospectors. The animals were also used inside the mines for hauling rock and ore. Outside the mines, burros were used for hauling water and supplies. As the mines closed and people moved away, the burros were released into the surrounding hills.
Ex-Soldiers Flock to Oatman
A June 22, edition of the Leadville, Colorado Herald Democrat contains an article about World War I soldiers flocking to Oatman seeking employment and the health benefits of the Arizona climate. The following text is from that article.
Oatman, Ariz., Is Much Like a Temporary War Town.... Take to Diamond Drilling With as Much Facility as They Did to Pumping a Machine Gun in France - Many of the Veterans Are Prospecting on Their Own Plan, When They Make Their Pile, to Reclaim Land in Boulder Dam Country.
Every generation has its gold rush. In '40 they came to Sacramento. In the '80s and '90s to Leadville and Cripple Creek. In 1896 to 1900 fortune hunters swarmed to the Klondike. In 1905-6-7 mining activity in Goldfield, Tonopah and other nearby mining centers was at its height.
The latest gold rush is at Oatman, Arlz., where gold ore running $54,000 to the ton was recently opened up.
Hundreds of ex-soldiers, who have found it necessary to come to a dry climate as a result of having been gassed in the war, are flocking Into Oatman, where the American Legion is caring for them and doing what It can to secure them employment at work suited to their capacities. Plans are going forward here to build a big hospital for disabled soldiers high up in the gold-bearing mountains. The location of this hospital already has been taken up with Governor Thomas E. Campbell of Arizona, who will soon visit Oatman to discuss the hospital project.
Just now Oatman has a familiar aspect to these ex-soldiers, for it resembles a town on the western front. Dynamite detonations keep the ground In a constant tremble and the all-night-long booming and blasting below ground sound familiar In an old soldier's ears.
Oatman, Arizona
Like a Temporary War Place
The town itself resembles a temporary war town. Ypres now has its makeshift wooden hotels, its shacks made of gasoline tins and stray field stones, its tents. And so has Oatman. "Over there" they are still blowing up piles of stray shells, while here, below ground, they are dynamiting down gold ore with which to aid the work of reconstruction in Europe.
Uncle Sam made a special request that the gold mines of Oatman be kept going during the war - and Oatman went over the top In 100 per cent fashion. It mined gold when labor costs and taxes made it a losing game. But now the soldiers have returned and in the big after-war hegira of Young America westward the Oatman gold fields are getting their share of lads who served overseas.
These ex-soldiers take to diamond drilling with as much facility as they did to pumping a machine gun up around Montfaucon. And they bundle the dangerous detonating caps used in firing the powder-filled holes with as much freedom as they touched off hand-made grenades in the trenches.
Oatman, Arizona
Many Veterans Prospecting
Many of the veterans are prospecting on their own. They come to Oatman in flivvers, remove their engines and attach them to diamond drills which they have either rented or purchased, and with a "rat-a-tat-tat" not unlike the rattle of a machine gun, they sink their diamond studded drills into the earth in the search for a gold bearing quartz vein. Several of the lads have hit it rich, some are "on their uppers," but all are having a good time.
Many of them plan to make their pile in Oatman and then go up to the country below the gigantic national dam which is to he built by the government in Boulder Canyon. One colony of ex soldiers plans to lay out thousands of acres which Is now the abiding place of cactus, rattlesnakes and barren soil, but which, when the Boulder Canyon dam is opened, will be one of the richest districts in the Southwest. This land already is rising in value in anticipation of its increased worth when irrigation ditches will be running through it.
Old mine equipment
Arizona Mining Photos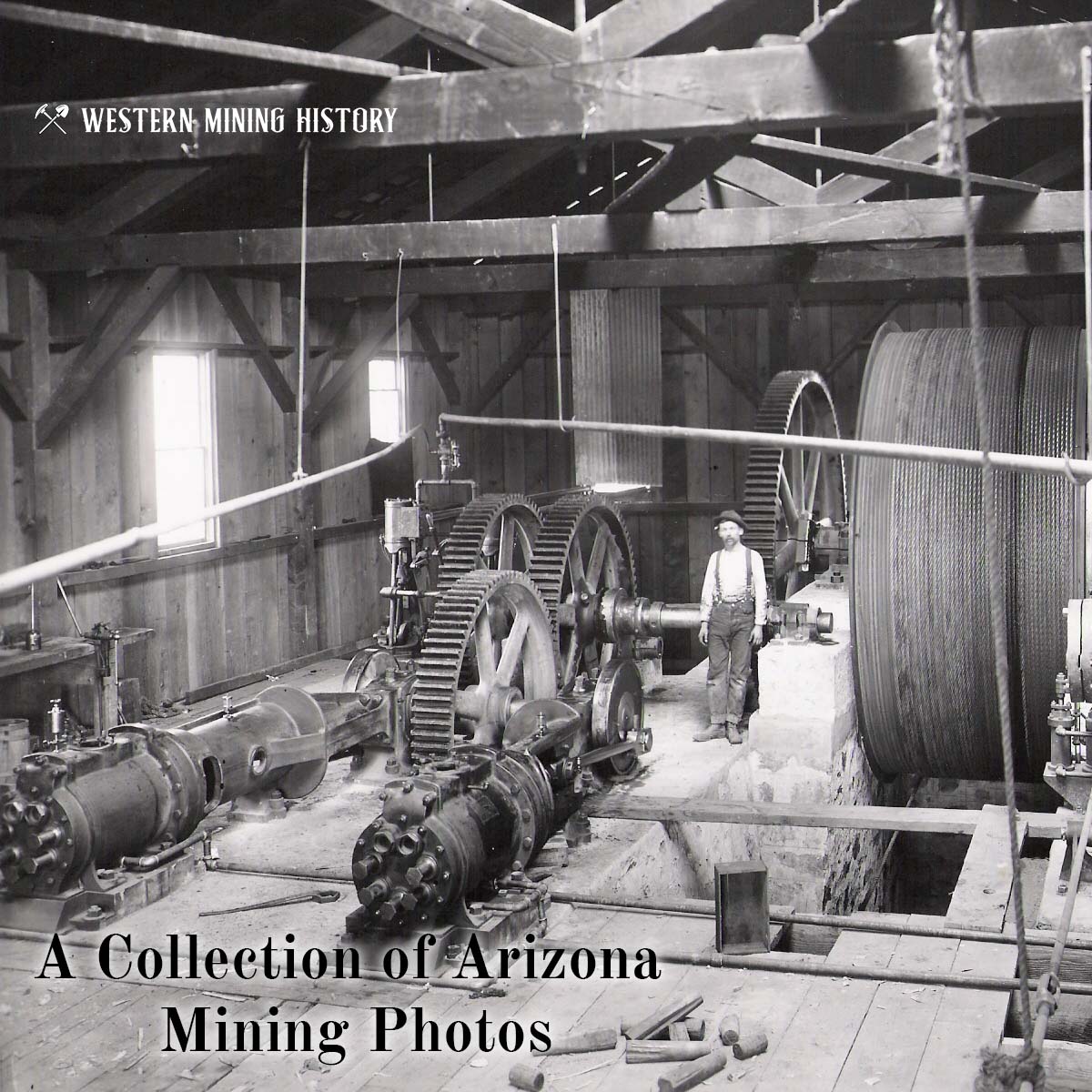 View over 35 historic Arizona mining scenes at A Collection of Arizona Mining Photos.